Green olive thecha with Jerk Mutton bruschetta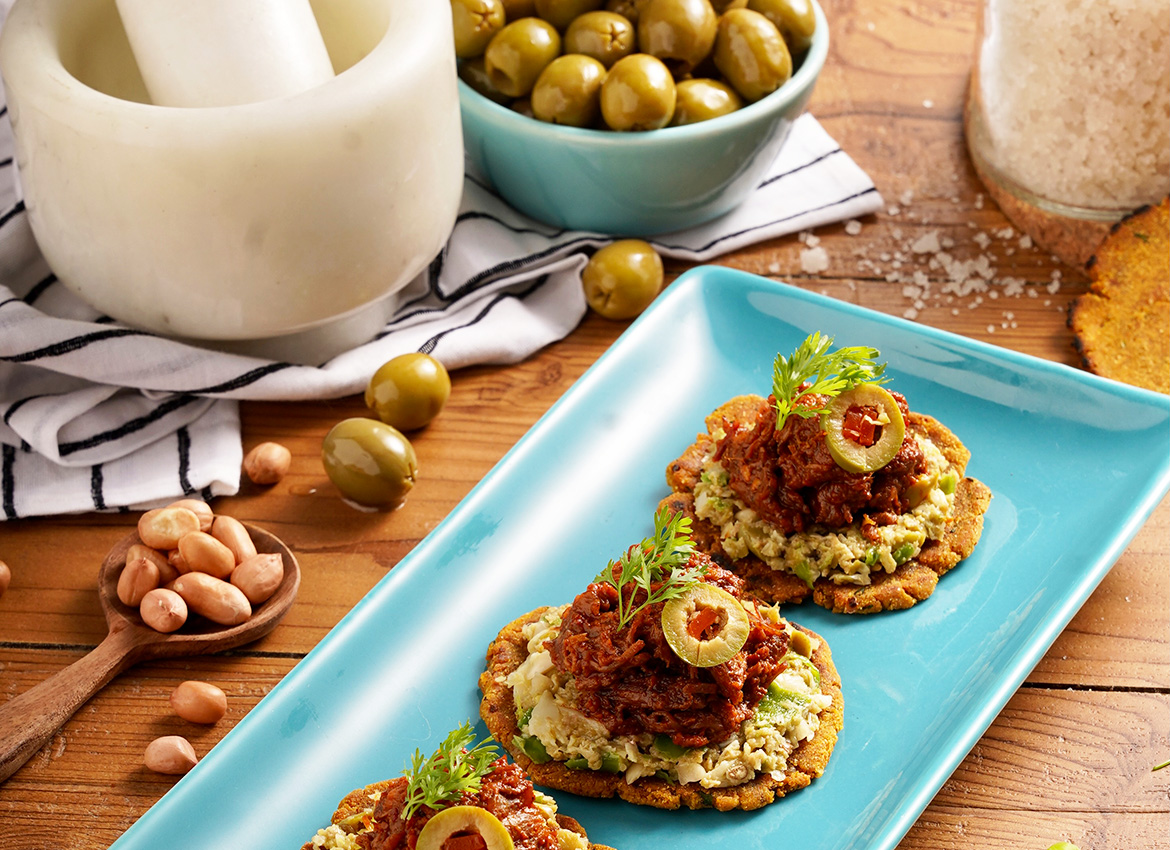 INGREDIENTS
GREEN OLIVES THECHA
100 g Green OLIVES FROM SPAIN
30 gms Green Chili
20 gms Peanuts
20 gms Garlic
1 tsp Salt
2 Tbsp Groundnut Oil
JERK MUTTON
200 g Mutton Boneless
100 g Chopped Onion
10-12 mini Bhajni Thalipeeth
50 g Chopped Tomato
20 g Coriander Stalks
30 g Ginger Garlic Paste
20 g Kashiri red Chili Paste
3-4 pcs Whole Black Pepper
2 pcs Bay Leaf
2-3 Black Cardomom
1 tsp Turmeric
1 tsp Coriander Powder
1/2 tbsp Deggi Mirchi powder
1 tsp Kanda Masala
1 tsp Salt
2 tbsp Oil
Preparation time:
30 minutes
Level of difficulty:
Medium
PREPARATION
METHOD FOR THE GREEN OLIVES THECHA
Roast the peanuts, Green chili and the garlic in 1bsp of groundnut oil in a pan.
Now add the ingredients in a mortar and pestle, grind all the ingredients along with the salt, oil and the green olives until a grainy paste like Pesto. Leave 2-3 Olives for Garnish.
METHOD FOR JERK MUTTON
In a Pressure Cooker, add oil, whole spices and saute.
Add Onion saute for 2 mins.
Add Ginger Garlic Paste, Coriander stalks and saute for 2 more mins.
Add Tomato and saute on a high flame until it becomes loose all the water.
Add the powdered spices and saute until it loses oil.
Add the Mutton and mix it well. Add about 1/2 a cup of water just to deglaze and pressure cook the mutton for about 20-25 mins until it disintegrate. After opening the cooker, finish it with the Kanda Masala.
FISHING
Take the bhajni thalipeeth, bake them until crispy on a med low flame.
Spread out the Green Olives Thecha over the bhajni thalipeeth add a dollop of the Jerk Mutton on top and garnish with sliced Green Olives on top.