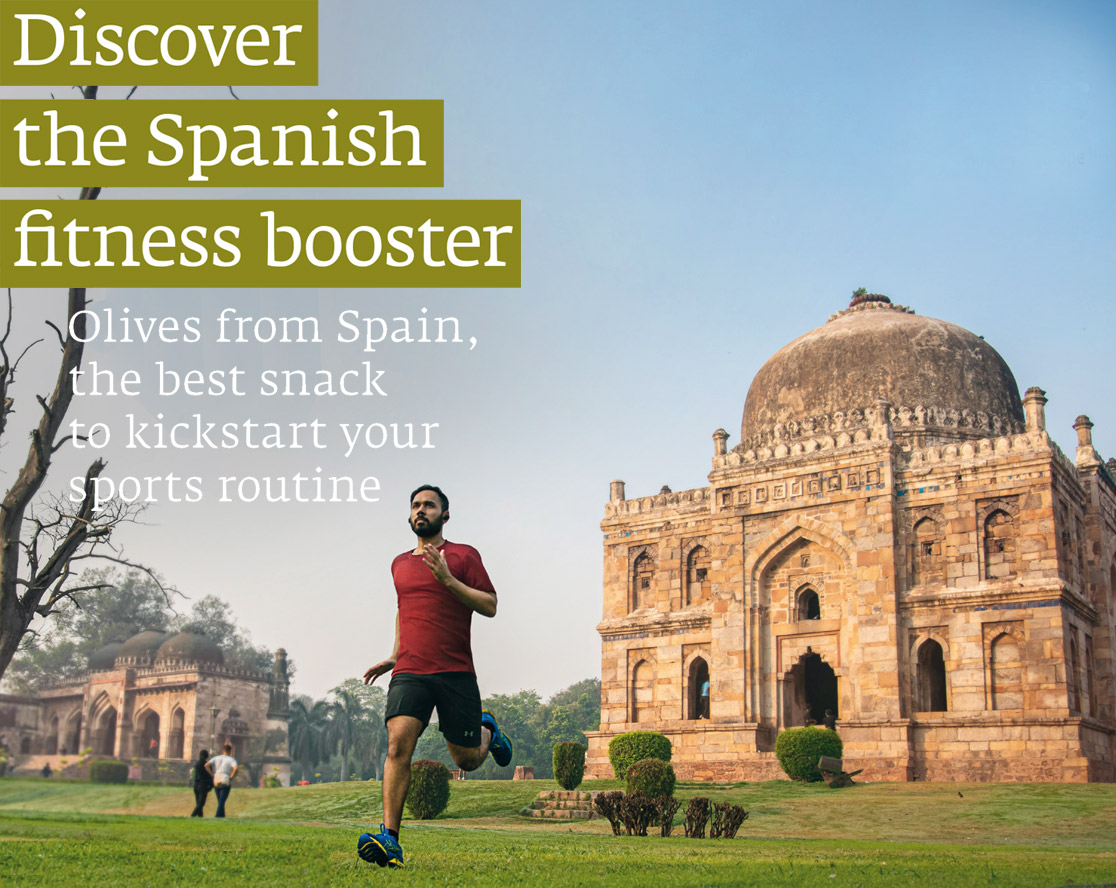 Saransh is a renowned chef who mixes his culinary passion with running. He has combined these two talents on social media using the hashtag #runtoeat, which features him enjoying a variety of fresh, local ingredients while running in different locations. Saransh is also known for preparing delicious recipes, some of them fitness-centered. As ambassador for Olives from Spain in India, we had the opportunity to ask Saransh questions about his diet and exercise routine.
When did your passion for running begin? It started in 2016 when I realized that I wanted to have a sport or activity in my life that would connect me with my own thoughts. So the idea was to take care of my physical and mental health and that's how I got into running. A couple of my friends introduced me to the idea of running a half/full marathon. Thanks to them, I became part of a running group and that motivated me to run 3 times a week; that's how my journey started. Once I started running more, I realized that I was meant to be a runner.
How has it contributed to your life? Running has made me into a much calmer person. It has aligned me with myself and my thoughts. It has also definitely helped me to feel physically fitter. It has brought a lot of positive changes in my life, like teaching me to keep looking ahead into the future. It is also my "me time" and it helps me to break away from the monotony of daily life.
What do you take into account to better your performance? Good rest is very important to perform well. I always get a good 7.5 to 8 hours of sleep a night. Besides running, stretching and side strength training helps me to improve my performance. And this also helps to improve my performance at work, because it keeps me active and energized. Exercising releases endorphins, the happy hormones, which is a positive addition to my mental state. Apart from exercise, I have been trying to cut down on the time I spend on social media, and spend more time on myself. I listen to a lot of music; I spend about 30 to 45 min a day just listening to good music. Music is like meditation for me.
What food helps you to improve your performance? My meals are very balanced. I follow a breakfast, lunch, and dinner routine: more carbs during breakfast and lunch, and low carbs for dinner. I mix my meals up a lot, my diet includes: vegetables, meats, lentils, a bit of dairy-- everything, actually. I make sure that I get enough protein and fiber; all those essential nutrients for the body. I also love snacking on healthy options, like olives. Let's not forget that they are only 37 kcal for 7 olives. What a healthy way to snack! I love to munch on some marinated olives that I always keep in my fridge. I do that when I have a binge moment. For dinner I just stick to veggies-- big bowl of veggies and salads, where of course comes the addition of olives.
Whatever our fitness goals may be, they are best achieved by caring for our bodies. Our fitness journeys begin from within, making nutrition a key ingredient to fitness success. Olives from Spain are more than a tangy, tasty treat, they also provide vital vitamins and minerals. Did you know that Olives from Spain are loaded with potassium, which helps muscle recovery? Or that Olives from Spain are rich in calcium, which keep bones strong and help to protect against osteoporosis? Or that the vitamin E and other powerful antioxidants in Olives from Spain keep your heart healthy?
Saransh isn't the only athlete that counts olives as a secret weapon in his fitness routine. The doctor of the Spanish soccer team, Óscar Celada, includes olives in the team's diet, incorporating them into salads, sandwiches, and snacks. It is no surprise that such a healthy, nutritious, and delicious food gets so much recognition among fitness experts. You can start training like a pro with this recipe for Spanish Tapenade with Hojiblanca Olives.