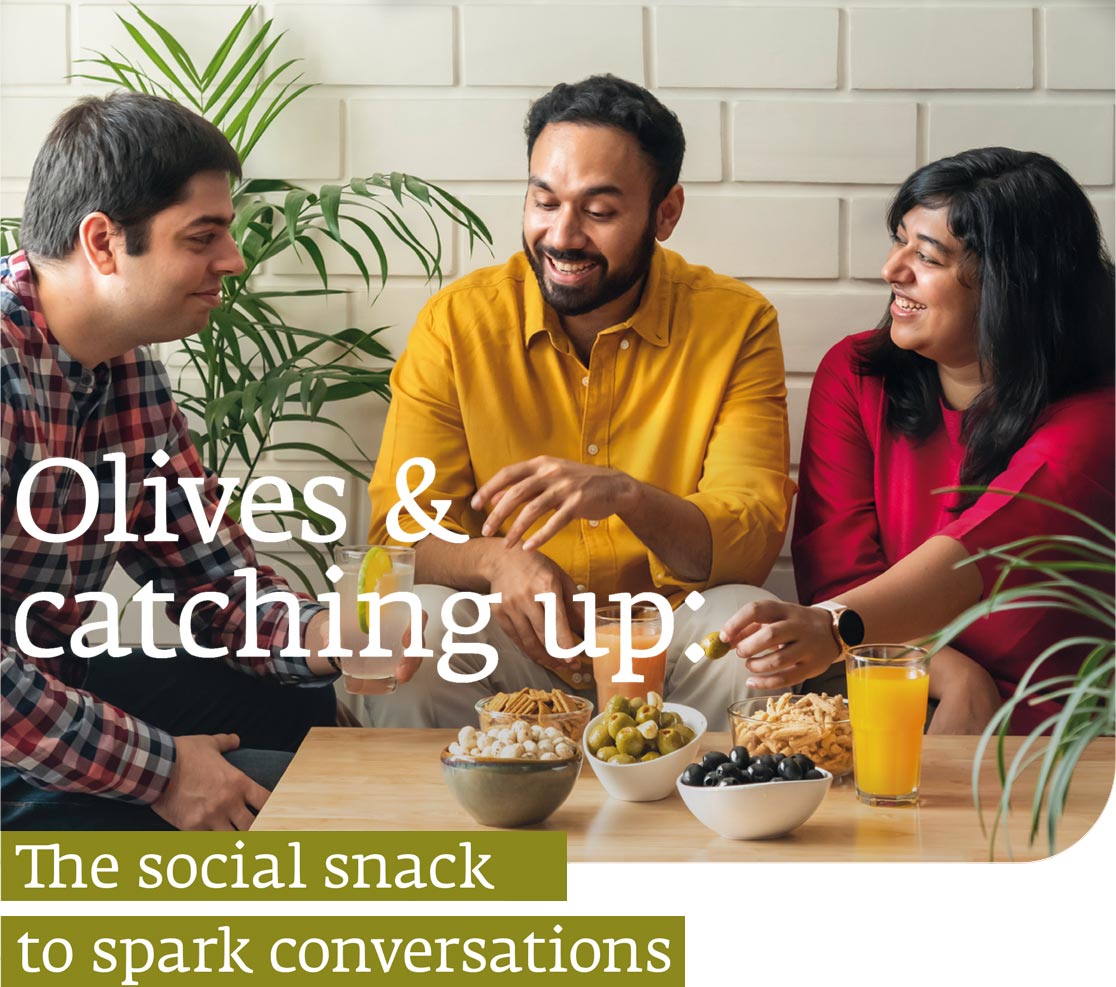 Finger foods, called "tapas" in Spain, all have one thing in common: they're made to be shared with others. What could be more beautiful than a table full of tasty offerings to keep the conversation going for hours? This year, having spent months apart, time with loved ones is valued more than ever. Nurturing friends and family has never been so important and what better way to do so than with healthy, wholesome food.
It's no secret that Olives from Spain's ambassador, Saransh, treasures quality time with his friends and family. And as a renowned chef, his loved ones know to always arrive with an appetite.
Never missing an opportunity to nourish and surprise his guests, Saransh loves to accompany Indian snacks with international ones. To get that guaranteed wow-factor, he turns to Olives from Spain. Taking only a few minutes to prepare, this tasty and nutritious finger food can be assembled without missing a second of storytelling. The tanginess of Olives from Spain pairs perfectly with Indian spices - even the most chatty of guests won't be able to resist taking a moment to pause and enjoy these flavorful treats.
For those who can't be together in person, Saransh also recommends spending quality time preparing meals and snacks virtually. Virtual cooking is a fun way to feel close to those who are far. For chefs of every skill level, recipes are ideal for learning how to cook together.
Saransh and Olives from Spain have also got you covered with a new cooking show on FoodFoodTV. Tune in and discover episodes of family-friendly, healthy recipes that make it even easier to create delicious food. The show is a must- see and sure to inspire with its blend of traditional and mediteranenan ingredients.
To give you a taste of what Saransh has got cooking, and in the spirit of "tapas," here is one of his favorite recipes to prepare with your loved ones near and far, Spicy Indian Pimento Olives from Spain. There's no better time than the present to savor delish moments with friends and family.